 Sunscape Window Tinting is not just another tint shop. We specialize in Residential, Commercial and Automotive Window Tinting. We are also your certified installers for 3M paint protections films. We also design and install custom graphics either in window film or vinyl stickers. We are your one stop tint shop! We have a simple philosophy: do things right the first time! After 17 years we have learned that there is no such thing as a small job. Whether you need your personal car tinted, your new home protected or a complete face lift on your 17 story building, we believe that quality installation and the best customer service possible is what it takes to stay alive in any type of business.
After being in the business 17 years , we pride ourselves on keeping at the top of our game. We are actively attending seminars and classes to keep our techniques current., as well as participating and placing in several window tinting competitions. We feel this gives us an advantage over our competition. Here are a few reasons that set us apart from our competitors.
ALL OF OUR WINDOW FILMS CARRY A LIFETIME WARRANTY
WE ARE THE ONLY SHOP THAT CARRY A NO CHARGE NO FAULT WARRANTY(SEE WARRANTIES FOR DETAILS).
WE ARE A PROUD USER OF A COMPUTER CUT PROGRAM. ALL AUTOMOTIVE WINDOW FILM IS CUT BY A STATE OF THE ART COMPUTERIZED WINDOW FILM CUTTING SOFTWARE. STYLE, FIT AND ACCURACY IS WHY WE USE THIS SYSTEM!
WE TINT ALL THE WAY UP TO THE DOORS EDGE FOR THAT FACTORY LOOK, NO LIGHT GAPS!
ALL BACK WINDOWS ARE DONE IN ONE PIECE.
WE DO NOT REMOVE DOOR PANELS.
With all of this experience it is very safe to say that we have a very good understanding of how the window film industry works. Especially when it comes to factory warranties, installation guidelines and trade secrets.
Sunscape Window Tinting is located in Central Point, OR . Our 1700 square foot show room and shop offer a great variety of display boards to allow our automotive customers see exactly what film and colors we have to offer.
If you are looking to have your commercial building or personal home tinted, we again feel that your experience with us will be pleasant and professional. We offer free in home estimates. We offer a wide range of window films depending on your application needs. Anti-graffiti films, non-reflective films, dual reflective films, ceramic films, decorative window films even clear window films, we offer it all.
We are fully insured and we are a licensed and bonded contractor in the state of Oregon. We invite you to stop in and take a tour of our facility. Our office hours are Monday- Friday 9:00 A.M to 5:30 P.M and by appointment only Saturday.
Click image below to enlarge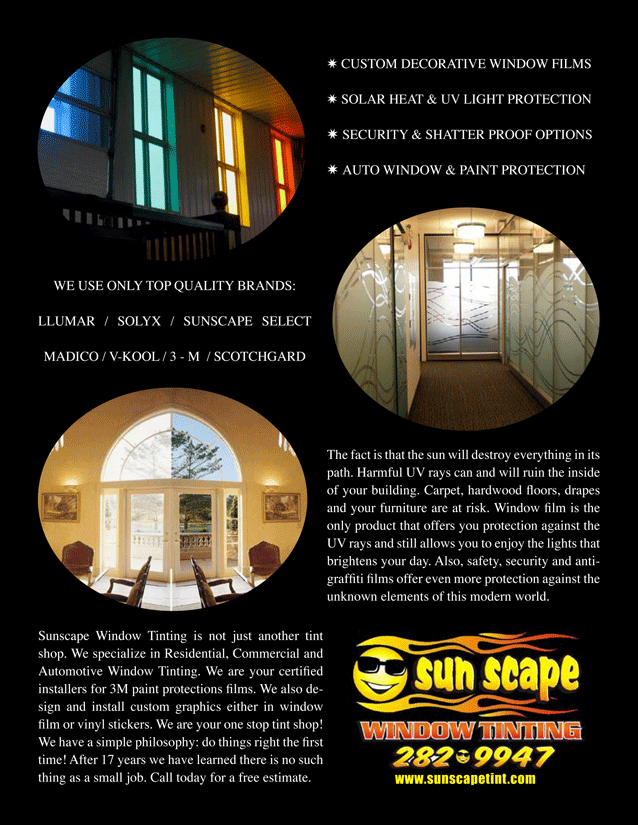 WPMicroSite
© 2013 All Rights Reserved. WelcomePagesUSA