 ​Welcome…

Beauty Biz offers a variety of services with the utmost professionalism.

Hair Design – Hair Color
Whether you are looking for a new haircut and style or expert color correction, we have the designers to do the job. Our Certified Master Colorist is the best around at achieving a natural look that will compliment you and your life style.
​
Gel Nails – Manicures – Pedicures
We specialize in Gel Nail Enhancements for your fingers and toes. We use Light Elegance Gel Nails which are available in many colors with shimmer, sparkle or matte finishes. Standard pink and white is also available for the classic French Manicure look.
Our Nail Techs offer the finest care for your feet as well. If you need a basic toe nail trim or want to pamper yourself with our Ultimate Pedicure, you'll find we offer what you are looking for.

Waxing
Our Estheticians provide facial waxing using the highest quality hard wax available. Whether fine tuning your brows or removing the unwanted "lady-stache" we are professional and discrete.

Massage
Beauty Biz is thrilled to be offering Massage Therapy! We have a Licensed Massage Therapist trained in Swedish Massage, Deep Tissue, Sports and Prenatal Massage as well as many other techniques.

Beauty Biz Body Line – Salon Hair Products – Soy Candles
Our large selection of professional products will help you maintain the look and feel of your new style.
​
We also have an amazing line of Soy Candles and The Beauty Biz Body line of Lotions, Shower Gels and Facial Creams. These products are all handmade locally, here in the Rogue Valley.
​
Gift Cards Available
At Beauty Biz our goal is to provide the quality of service and product that will keep our clients coming back for more.
The Shoppes at Exit 24
205 Fern Valley Rd, Suite E
Phoenix, OR 975352

HOURS:
Monday - Friday 9-7
Saturday 9-4

Click image below to enlarge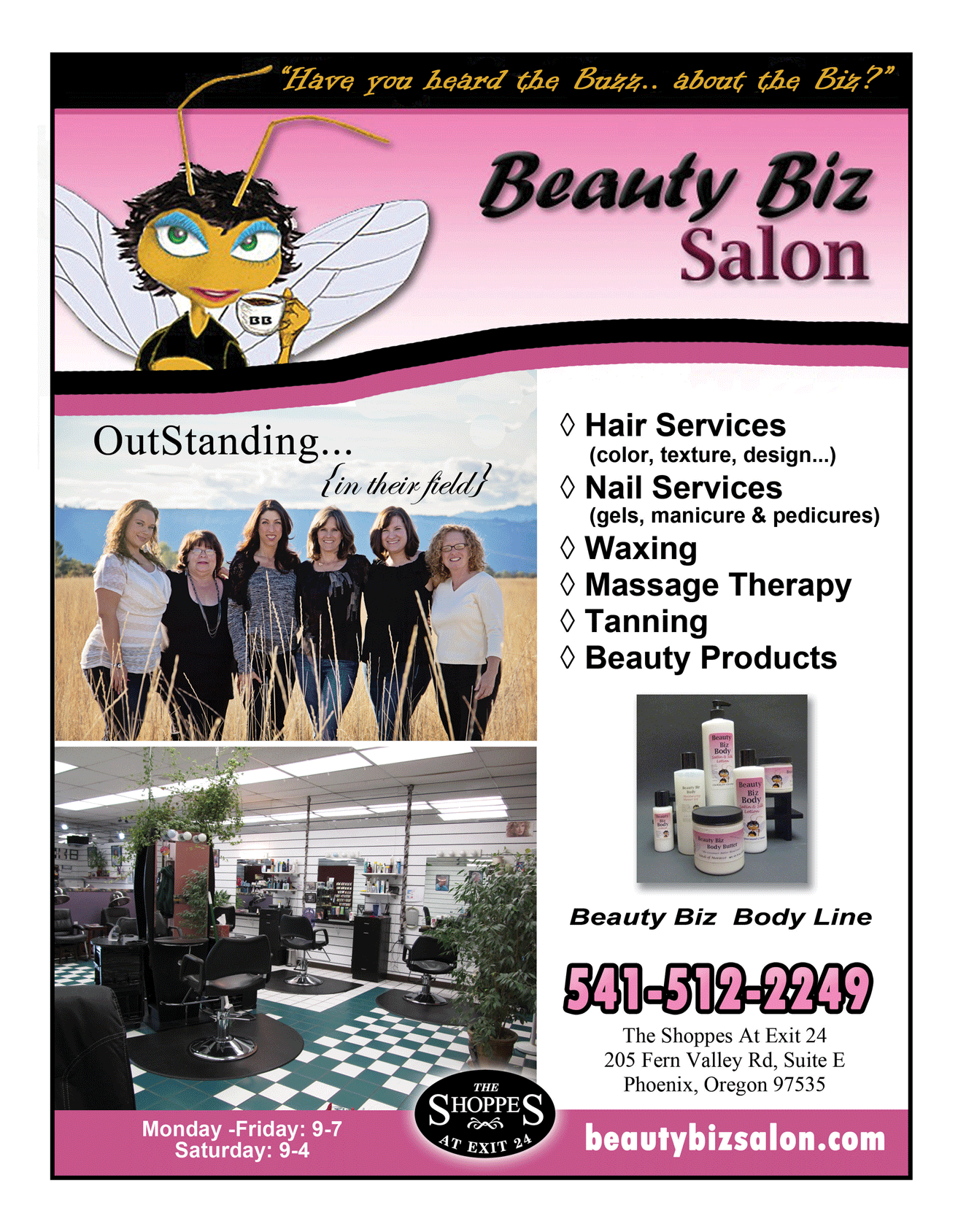 WPMicroSite
© 2013 All Rights Reserved. WelcomePagesUSA